We sat down with the top executives and staff of DRG at the 2016 AACC Annual Meeting and asked them questions about what makes them the worldwide leader in diagnostics. These are the key takeaways the top executives at DRG want you to remember.
Michael Martini (full profile)
We're here to advance science, science throughout the world. One of the key products that sell is a product called Hepcidin. It's really a novel compound where we're one of the only companies in the world that make the diagnostic test for it. We make great products to advance the diagnostic community, and I'm proud to work for DRG. Really just excited to be here and kind of spread the word on what we can hopefully accomplish in the future here.
Wilhelm Saenger (full profile)
I hope that people get an impression, a little bit of an impression, of the people of DRG, that we would like to meet some people from DRG who work with us here and to bring out products to this country or to this clients. That would be a wonderful outcome of this.
Dr. Oleg Vishnevski
Stay with DRG. Be with us and you will be profitable.
Simon Middleton
I think it goes back to people. DRG is made form, it's a small company, and what pushes it ahead is personality and people, culture, multi-language, everything. This is a very personal thing for me.
Dr. Witold Jurkiewicz (full profile)
Of course, this is very difficult to say in few words, but I suggest if you like to find something new, please visit DRG.
Dr. Cyril E. Geacintov (full profile)
One of the best things I liked was a couple of years ago when [inaudible 00:01:49] which is the other very big show, I had a guy, a professor, come out to me and say, "How long have you been with the company?" I said, "Well, very long." He says, "Do you know that there was a Dr. G who formed that company?" I said, "Yes, I know that." Then he says to me, "Did you ever meet him?" I said, "Yes, it was me." "Oh my god," he says, "I didn't know that." What I'm proud of is that instead of being a personal company, it is now a worldwide corporation, and I think the one thing to remember is that I would like it to continue because 47 years in existence, we have experienced a lot of good things, but we've also had downfalls. Then you pick yourself up and you start again. We have good products. We want to distribute them worldwide and we really to make sure that everybody understands that DRG is a worldwide specialty medical diagnostic business, but on top of that, we don't hesitate to do other things either. Every day you sell something and you make a profit, it gives you a chance to continue to do business again.

Gregory C. Guest is the International Marketing Manager located at DRG International's worldwide headquarters in Springfield, NJ.

Latest posts by Gregory C. Guest (see all)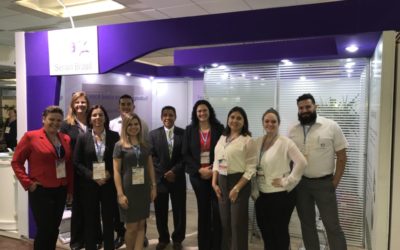 DRG is proud to announce the new partnership with Serion-Brazil and looks forward to a longstanding and successful business relationship! Mr. Gustavo Ruales, DRG International's Latin American Sales Manager, also attended the exhibition to support...
read more