DRG Debuts Calprotectin Poster at MEDLAB Asia Pacific 2017!
DRG Booth with Visitors. From Left: Mr. Gideon Lim; Dr. Cyril E. Geacintov, CEO & Founder of DRG; Dr.Aw Tar Choon, MD at Changi General Hospital in Singapore; Mrs. Josephine Teo; Mrs. Elke Geacintov; Mr. Wilhelm Sanger.
We are pleased to announce that the DRG Group successfully exhibited at MEDLAB Asia Pacific 2017. The show took place in Singapore at The Suntec Expo and Convention Centre, from April 3 – 5, 2017, and DRG exhibited at Booth #Q11.
DRG Founder, President, & CEO Dr. Cyril E. Geacintov was at the DRG booth and met with several customers and distributors. DRG's Singapore distributor BioMedix helped DRG maintain the booth, BioMedix owners Mr. Gideon Lim and Ms. Josephine Teo pictured above.
DRG also featured a poster presentation at Medlab Asia Pacific 2017 entitled "Validation of Fecal Calprotectin on the DRG:Hybrid-XL Analyzer." You can find a link to the poster here. The study concluded that the DRG:Hybrid-XL analyzer is the first fully automated system for the quantification of Calprotectin in stool samples. The fecal calprotectin test shows diagnostic advantages over standard fecal occult blood screening in colorectal cancer and is a much better predictor of relapse.
DRG offered live demonstrations of our fully automated random access analyzer: DRG:HYBRiD-XL®. DRG is also proud to highlight our newest ELISAs like DHT-optimized and Hepcidin 25 (bioactive) High Sensitive ELISA kit.
To learn more about DRG's Hepcidin kit or the DRG:HYBRiD-XL®, please visit our site here!

Gregory C. Guest is the International Marketing Manager located at DRG International's worldwide headquarters in Springfield, NJ.

Latest posts by Gregory C. Guest (see all)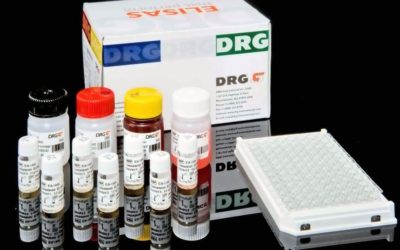 DRG International, inc. recently launched our brand new Ecommerce site for USA customers! Click here to shop over 180 ELISA, Salivary ELISA, and CHROMagar products now: https://store.drg-international.com/ The Ecommerce store has over 180 products that are FDA...
read more