DRG´s Newly Optimized Salivary Testosterone Kit used in New Study!
New Poster presented using DRG´s newly optimized Salivary Testosterone Kit
Ellie Shuo Jin, Doctoral Candidate in Clinical Psychology of the University of Texas at Austin, presented her poster at the Meeting of International Society of Psychoneuroendocrinology (ISPNE).
The meeting was held in Zuerich, Switzerland, from September 7th – 9th, 2017. The theme of this year´s ISPNE meeting was Genes and Hormones.
Ellie Shuo Jin´s poster is titled "Greater testosterone reactivity associated with lower subjective anxiety in response to social stressor".
She was honored by winning an award for her poster presentation!
DRG International had the pleasure to support her doctoral research with providing the newly optimized Salivary Testosterone Kit, SLV-3013!
Salivary Testosterone optimized features (SLV-3013):
Dynamic assay range optimized to 0.94 – 1000 pg/mL
Reagent stability improved
Very good correlation to LC-MS (r2=0,979) and to competitor´s ELISA (r2=0,989)
Reference values are specified for females and males; age-related normal ranges for males
Assay Characteristics SLV-3013:
Assay dynamic range: 0.94 – 1000 pg/mL
Total assay time: 60 / 30 min (RT)
Limit of Detection (LoD): 2.63 pg/mL
Sample volume: 75 µL
Mean Intra Assay Precision: 4.7 %
Mean Inter Assay Precision: 7.6 %
Controls: 2 control levels

Gregory C. Guest is the International Marketing Manager located at DRG International's worldwide headquarters in Springfield, NJ.

Latest posts by Gregory C. Guest (see all)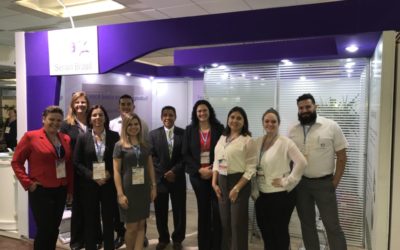 DRG is proud to announce the new partnership with Serion-Brazil and looks forward to a longstanding and successful business relationship! Mr. Gustavo Ruales, DRG International's Latin American Sales Manager, also attended the exhibition to support...
read more