Coronavirus Detection - COVID-19 Diagnostic Test Kit Products
DRG International offers COVID-19 serology tests for CE/IVD, USA/IVD (under Section D) and health Canada (RUO) pending interim order
For International Customers
**Warning** These tests have not been reviewed by the FDA:
Negative results do not rule out SARS-CoV-2 infection, particularly in those who have been in contact with the virus. Follow-up testing with a molecular diagnostic should be considered to rule out infection in these individuals

Results from antibody testing should not be used as the sole basis to diagnose or exclude SARS-CoV-2 infection or to inform infection status

Positive results may be due to past or present infection with non-SARS-CoV-2 coronavirus strains, such as coronavirus HKU1, NL63, OC43, or 229E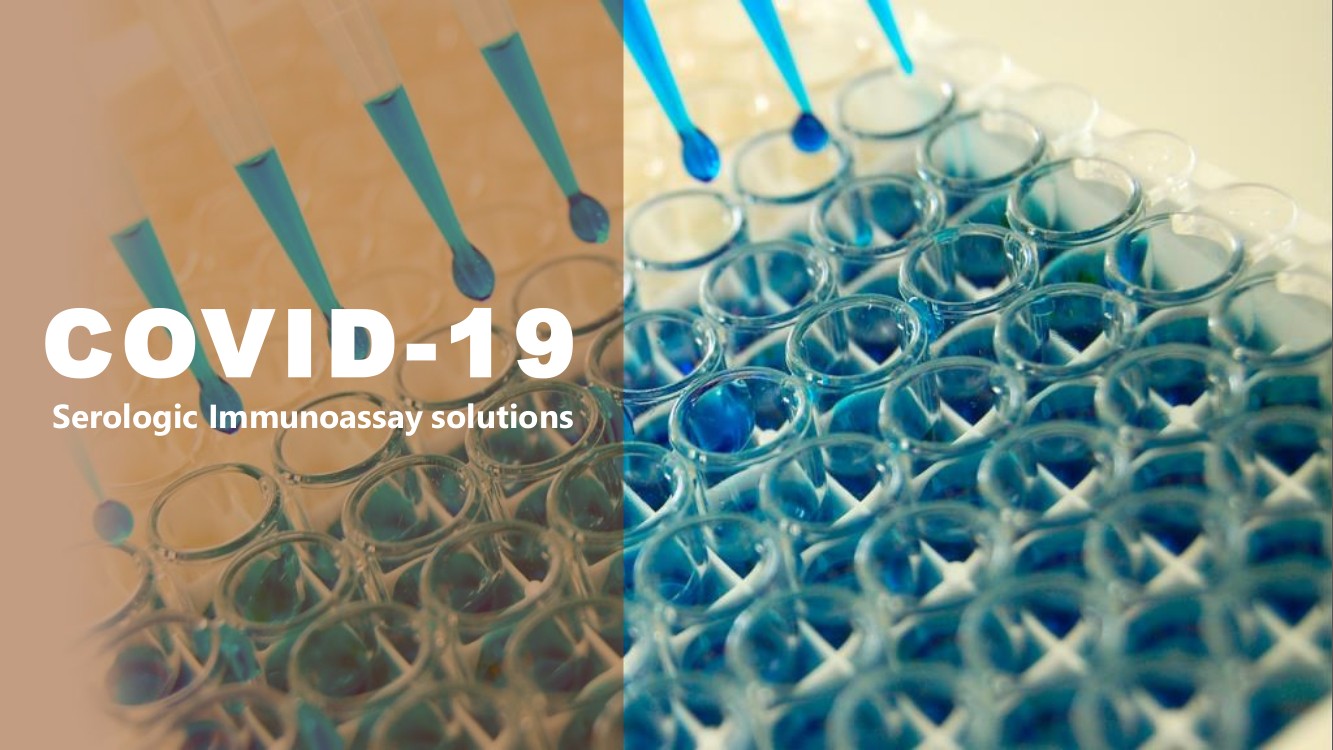 ​Coronavirus COVID-19 IgG ELISA Kit
Background: Effective detection of the SARS-CoV-2 virus is extremely critical. Currently, Reverse transcription polymerase chain reaction (RT-PCR) tests are being widely used to amplify virus RNA in order to detect the virus. However, these tests have a very high rate of false negative results due to improper sample collection, complicated procedure if reliable sample from lower respiratory track is to be collected and pose risks to health care providers during specimen collection and subsequent sample handling.
In addition, RT-PCR is a complicated experiment requiring adequate training and the instruments that can perform such assays are expensive, with limited installation, and are cumbersome to operate.
Novel Coronavirus COVID-19 IgG Clinical Testing in China
Sensitivity = 100%
Specificity = 100%
PPV* = 100%
NPV** = 100%
* : Positive Predictive Value
**: Negative Predictive Value
Serum samples from two cohorts of patients were tested using the IgG ELISA kit in China

The first cohort consisted of serum samples from normal healthy patients collected prior to the COVID-19 outbreak [December 3, 2019] (n = 43)

The second consisted of serum samples from RT-PCR confirmed positive patients after two weeks of the onset of the disease (n = 20)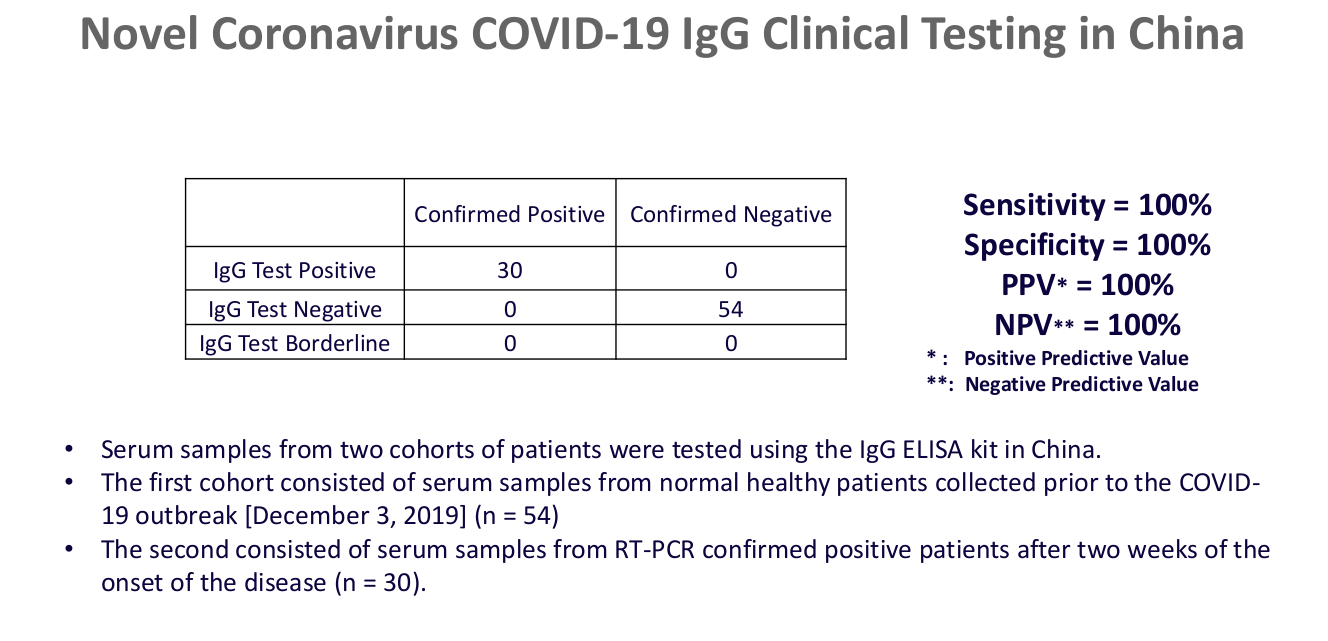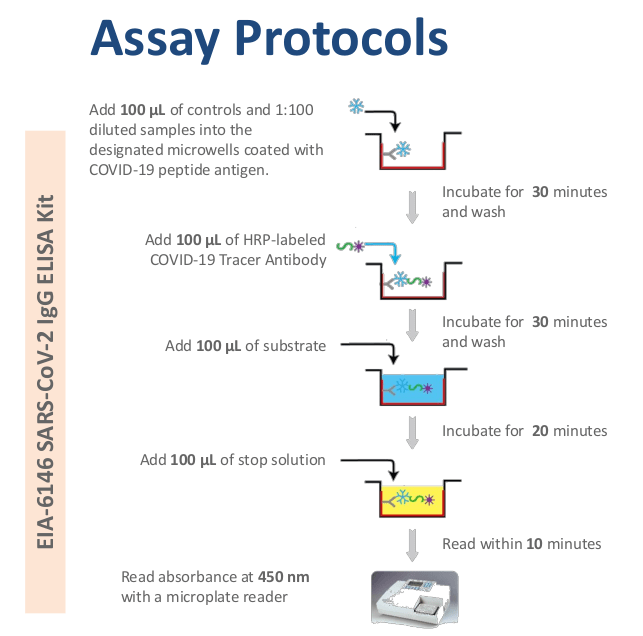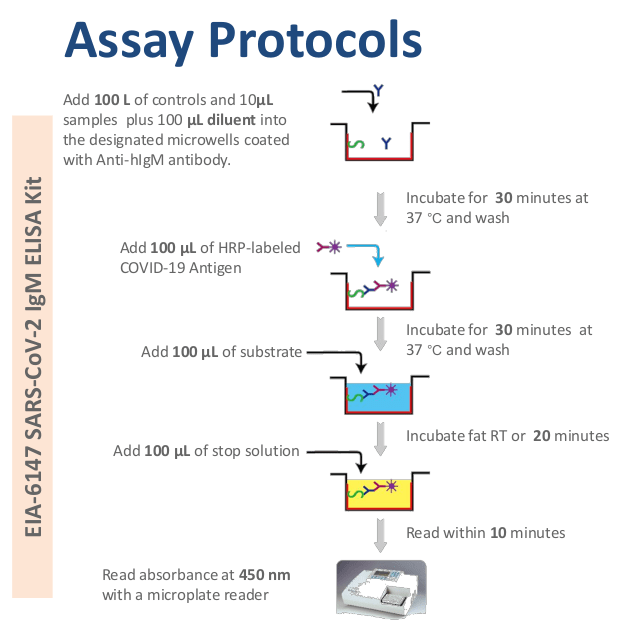 Coronavirus COVID-19 IgM ELISA Kit
These are Enzyme Linked Immunosorbent Assays (ELISA) for the qualitative detection of IgM and IgG antibodies against SARS-CoV-2 in human serum samples.
The Coronavirus COVID-19 IgG ELISA Kit and the Coronavirus COVID-19 IgM ELISA are immunoassay kits exclusively for the qualitative detection of antibodies against SARS-CoV-2, the virus that causes COVID-19.
N protein is the only nucleocapsid protein expressed in SARS-CoV-2 virus. It is believed to help tether the viral genome to the replicase-transcriptase complex (RTC), and subsequently package the encapsulated genome into viral particles. A library of recombinant SARS-CoV-2 nucleocapsid proteins (N) and peptides have been developed, subsequently selected and used to develop our IgG and IGM kits.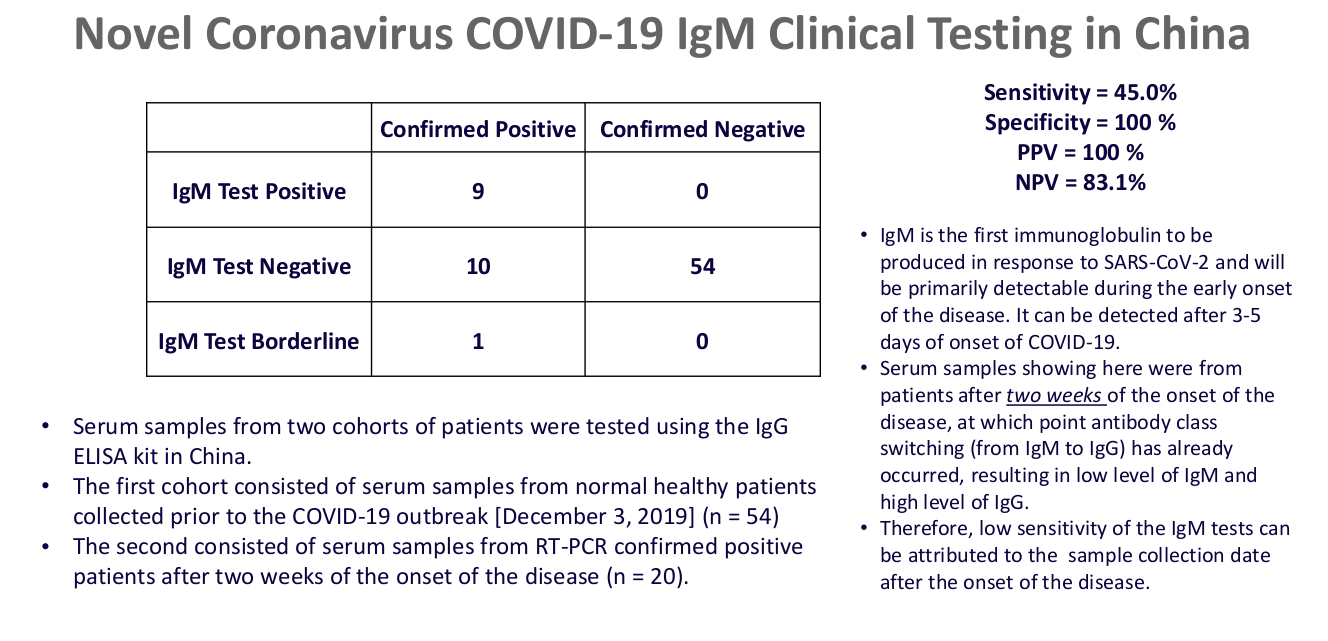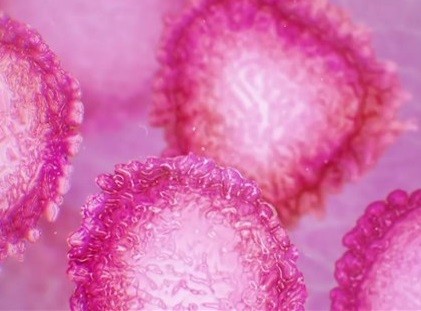 Both COVID-19 assays are based on the well established, widely used enzyme linked immunoassay (ELISA) technique that is considered the industry standard for diagnostics. The procedures are simple to perform, with a two-step plate wash and three steps incubation (total 80 minutes), the whole assay can be finished in less than 2 hours for up to 91 samples per plate.
Also, both COVID-19 kits have been used in clinical testing at multiple sites in China during the COVID-19 outbreak. The following results from these studies excellently differentiated samples of confirmed COVID-19 patients from healthy donors (performed by CE test in China):
 
** 100% clinical sensitivity against 20 RT-PCR confirmed cases and 43 normal healthy donor specimen
** 100% clinical specificity against 20 RT-PCR confirmed cases and 43 normal healthy donor specimens
*  75% (15 out of 20) of the positive cases show a 3x higher OD value than the positive cut off value
*  90% (18 out of 20) of the positive cases show a 2x higher OD value than the positive cut off value

Benefits of ELISA Testing
* IgM and IgG tests can be combined for efficient clinical diagnosis at multiple stages
* Established industry technology
* Cost effective & Easy-to-use
* Minimal error in sample handling
* Low risk and low incidence of cross-contamination

Benefits of ELISA Testing
IgM and IgG tests can be combined for efficient clinical diagnosis at multiple stages
Established industry technology
Cost effective & Easy-to-use
Minimal error in sample handling
Low risk and low incidence of cross-contamination