DRG:HYBRiD-XL® - A Fully Automated Analyzer for Immunoassay and Clinical Chemistry
The DRG: HYBRiD-XL ® Unique, Fully Automated, Continuous Access Analyzer is Now Available!
Using innovative and unique technology the DRG HYBRiD-XL ® allows, for the first time, the simultaneous measurement of immunoassays and clinical chemistry parameters, including turbidimetric tests in one sample.
The lab top analyzer, ideal for medium-sized and small laboratories, provides diagnostic services to hospitals, clinics and large medical practice facilities.
Up to 40 tests of different types or 40 times of the same test, or up to 20-patient samples can be ordered by the medical practitioner over a wide range of pre-packaged tests to serve different specialties.
DRG:HYBRiD-XL Specifications
Handling/Interface
Color Monitor, Touchscreen (8.5 inch.)
Smart user guidance
Bi-directional Interface (ASTM)
Calibration
Barcoded Master Curve
2 point recalibration
Long Stability
Test Principle
Enzyme Immunoassays
Clinical Chemistry
Immunoturbidimetry
Samples/Cartridges
Up to 20 samples/run (12 primary tubes or 20 secondary tubes)
Random access possible
STAT possible
Reagents on board (cartridge ready to use)
Barcoded reading of samples and reagents
Serum, Plasma, Urine or Saliva samples
Sample dilution up to 1:1000
Efficiency
First results after 10 minutes
Up to 80 tests/hour (2 runs)
Long walk away times
Short hands-on times
Benchtop Analyzer (60,8 x 63,5 x 58,6 cm high)
Only 2 system-reagents (Wash/Needle cleaning)
Clot detection
Liquid level detection
Variable assay-sizes (24, 60, 120 tests)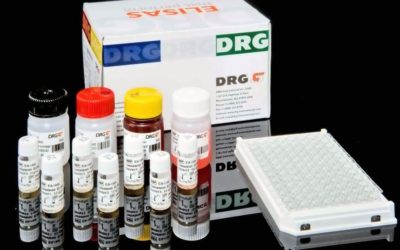 DRG International, inc. recently launched our brand new Ecommerce site for USA customers! Click here to shop over 180 ELISA, Salivary ELISA, and CHROMagar products now: https://store.drg-international.com/ The Ecommerce store has over 180 products that are FDA...
read more