DRG:HYBRiD-XL® - A Fully Automated Analyzer for Immunoassay and Clinical Chemistry
We've had an excellent run with the DRG Hybrid XL in our lab space. The platform is compact, the interface is concise, the assays are robust, and the results are precise. Coming from a CLIA laboratory, I've had the opportunity to handle a number of tabletop and full-size chemistry analyzers. Put simply, the Hybrid is among the best.
– Julian O. Yerkes Biomarkers Lab, Emory University.
Black – Immunoassay (Special ELISA)
Orange – Clinical Chemistry (Immunoturbidimetry)
Endocrinology – Gynecology
HYE-5333 17-OH Progesterone
HYE-5339 Androstenedione
HYE-5346 DHEA
HYE-5347 DHEA-S
HYE-5349 Estradiol
HYE-5355 FSH
HYE-5359 Beta hCG
HYE-5362 LH
HYE-5368 Progesterone
HYE-5369 Prolactin
HYE-5376 Testosterone
HYE-5378 Free Testosterone
Prenatal Supervision
HYE-5359 Beta hCG
HYE-5337 AFP
HYE-5351 Free Estriol
Endocrinology – Thyroid Function
HYE-5356 T3, free
HYE-5357 T4, free
HYE-5385 TSH
HYE-5697 T3 (design change, to be released soon)
HYE-5698 T4
Gastroenterology – Celiac Disease
HYE-5767 Calprotectin
HYE-5819 Anti-DGP IgA NEW
HYE-5820 Anti-DGP IgG NEW
HYE-5894 Anti-tTG IgA NEW
HYE-5895 Anti-tTG IgG NEW
Diabetes
HYC-5325 HbA1c
HYE-5361 Insulin
Cardiac Markers
HYC-5321 D-dimer
HYC-5613 CRP-HS
Cardiac Acute Phase
HYC-5613 CRP-HS
Hypertension
HYE-5338 Aldosterone
HYE-5373 Renin (active)
Oncology & Tumor markers
HYE-5337 AFP
HYE-5359 Beta hCG
HYE-5370 PSA HYE-5371
Free PSA (pending on certification)
HYE-5382 TM-CA 72-4
Bone Metabolism
HYE-5334 25-OH Vitamin D (total)
Gastrointestinal Disease
HYC-5319 CRP
HYE-5767 Calprotectin
Nephrology & Renal Function
HYC-5320 Cystatin C
HYE-5343 Cortisol
HYE-5347 DHEA-S
HYE-5769 Hepcidin 25 (bioactive) UNIQUE
Iron Metabolism & Anemia
HYE-5769 Hepcidin 25 (bioactive) UNIQUE
HYC-5319 CRP
Saliva Diagnostic
HYE-5344 Salivary Cortisol NEW & UNIQUE
Fecal Diagnostic
HYE-5767 Calprotectin
Adrenal Gland
HYE-5343 Cortisol
HYE-5344 Salivary Cortisol NEW & UNIQUE
The DRG: HYBRiD-XL ®: The Unique, Fully-Automated, Continuous Access Analyzer
is Now Available!
Using innovative and unique technology the DRG HYBRiD-XL ® allows, for the first time, the simultaneous measurement of immunoassays and clinical chemistry parameters, including turbidimetric tests in one sample.
Up to 40 tests of different types or 40 times of the same test, or up to 20-patient samples can be ordered by the medical practitioner over a wide range of pre-packaged tests to serve different specialties.
DRG:HYBRiD-XL Specifications
Handling/Interface
Color Monitor, Touchscreen (8.5 inch.)
Smart user guidance
Bi-directional Interface (ASTM)
Calibration
Barcoded Master Curve
2 point recalibration
Long Stability
Test Principle
Enzyme Immunoassays
Clinical Chemistry
Immunoturbidimetry
Samples/Cartridges
Up to 20 samples/run (12 primary tubes or 20 secondary tubes)
Random access possible
STAT possible
Reagents on board (cartridge ready to use)
Barcoded reading of samples and reagents
Serum, Plasma, Urine or Saliva samples
Sample dilution up to 1:1000
Efficiency
First results after 10 minutes
Up to 80 tests/hour (2 runs)
Long walk away times
Short hands-on times
Benchtop Analyzer (60,8 x 63,5 x 58,6 cm high)
Only 2 system-reagents (Wash/Needle cleaning)
Clot detection
Liquid level detection
Variable assay-sizes (24, 60, 120 tests)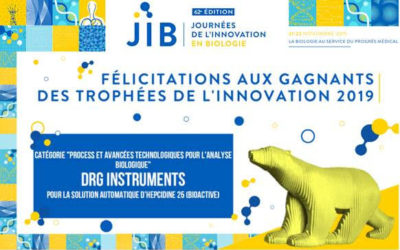 This past week, hundreds gathered for the JIB 2019 - Days of Innovation in Medical Biology 2019, the largest lab congress in France. This annual convention took place at the beautiful l'Espace Grand Arche, Paris-La Défense. Over 2 days the JIB hosted a succession of...
read more