Welcome to www.drg-international.com! This site is owned by DRG International, Inc. This Privacy Policy is designed to tell you about our practices regarding collection, use, and disclosure of information that you may provide via this site. Please be sure to read this entire Privacy Policy before using or submitting information to this site. This site is intended for use by residents of The United States.
Your Consent
By using this site, you agree to the terms of this Privacy Policy. Whenever you submit information via this site, you consent to the collection, use, and disclosure of that information in accordance with this Privacy Policy.
About Children
This site is not intended for children under the age of 13. We will not knowingly collect personally identifiable information via this site from visitors in this age group. We encourage parents to talk to their children about their use of the Internet and the information they disclose to Web sites.
Information You Provide
Some areas of this site may ask you to submit personally identifiable information in order for you to benefit from the specified features (such as newsletter subscriptions, tips/pointers, order processing, or resume submission) or to participate in a particular activity (such as promotions or other). You will be informed what information is required and which information is optional.
Passive Information Collection
As you navigate through this site, certain anonymous information can be passively collected (that is, gathered without your actively providing the information) using various technologies, such as cookies, Internet tags or web beacons, and navigational data collection (log files, server logs, clickstream). Your Internet browser automatically transmits to this site some of this anonymous information, such as the URL of the Web site you just came from and the Internet Protocol (IP) address and the browser version your computer is currently using. This site may also collect anonymous information from your computer through cookies and Internet tags or web beacons. You may set your browser to notify you when a cookie is sent or to refuse cookies altogether, but certain features of this site might not work without cookies.
This site may use and combine such passively collected anonymous information to provide better service to site visitors, customize the site based on your preferences, compile and analyze statistics and trends, and otherwise administer and improve the site for your use. Such information is not combined with personally identifiable information collected elsewhere on the site unless you have consented.
More Information About Cookies
A "cookie" is a bit of information that a Web site sends to your Web browser that helps the site remember information about you and your preferences.
"Session" cookies are temporary bits of information that are used to improve navigation, block visitors from providing information where inappropriate (the site "remembers" previous entries of age or country of origin that were outside the specified parameters and blocks subsequent changes), and collect aggregate statistical information on the site. They are erased once you exit your Web browser or otherwise turn off your computer.
"Persistent" cookies are more permanent bits of information that are placed on the hard drive of your computer and stay there unless you delete the cookie. Persistent cookies store information on your computer for a number of purposes, such as retrieving certain information you have previously provided (such as passwords), helping to determine what areas of the Web site visitors find most valuable, and customizing the Web site based on your preferences on an ongoing basis. Persistent cookies placed by this site on your computer may hold personally identifiable information, but only if you have registered or have otherwise consented to the retention of personally identifiable information you have provided at the site. Otherwise, our site's server only knows that an unidentified visitor with your cookie has returned to the site.
You can set your browser to accept all cookies, to reject all cookies, or to notify you whenever a cookie is offered so that you can decide each time whether to accept it. To learn more about cookies and how to specify your preferences, please search for "cookie" in the "Help" portion of your browser.
A site may use Internet Protocol (IP) addresses. An IP address is a number assigned to your computer by your Internet service provider so you can access the Internet and is generally considered to be non-personally identifiable information, because in most cases an IP address is dynamic (changing each time you connect to the Internet), rather than static (unique to a particular user's computer). The IP address can be used to diagnose problems with a server, report aggregate information, determine the fastest route for your computer to use in connecting to a site, and administer and improve the site.
"Internet tags" (also known as single-pixel GIFs, clear GIFs, invisible GIFs, and 1-by-1 GIFs) are smaller than cookies and tell the Web site server information such as the IP address and browser type related to the visitor's computer. Tags may be placed both on online advertisements that bring people to the site and on different pages of the site. Such tags indicate how many times a page is opened and which information is consulted.
"Navigational data" (log files, server logs, and clickstream data) are used for system management, to improve the content of the site, market research purposes, and to communicate information to visitors.
Use and Disclosure of Information
Except as otherwise stated, we may use information collected via this site to improve the content of our site, to customize the site to your preferences, to communicate information to you (if you have requested it), for our marketing and research purposes, and for any other purpose specified. In addition, we may make full use of all information acquired through this site that is not in personally identifiable form.
If you provide personally identifiable information to this site, we may combine such information with other actively collected information unless we specify otherwise at the point of collection. We may disclose personally identifiable information you provide via this site to other DRG International, Inc. Services, Inc affiliates worldwide that agree to treat it in accordance with this Privacy Policy and use it for the same purposes. We also may disclose personally identifiable information you provide via this site to third parties that are not DRG International, Inc. Services, Inc. affiliates, but only:
(i) to contractors we use to support our business (such as fulfillment services, technical support, delivery services, and financial institutions), in which case we will require such third parties to agree to treat it in accordance with this Privacy Policy and use it for the same purposes;
(ii) in connection with the sale, assignment, or other transfer of the business of this site to which the information relates, in which case we will require any such buyer to agree to treat it in accordance with this Privacy Policy and use it for the same purposes; or
(iii) to respond to law enforcement requests or where required by applicable laws, court orders, or government regulations.
The collection, use, and disclosure of information contemplated in this Privacy Policy may involve a transfer of the information to jurisdictions located outside your country of residence that may not have equivalent laws and rules regarding personally identifiable information. In these cases, you will be asked to consent to such transfers and disclosures in accordance with this Privacy Policy.
Access, Correction, and Deletion
To keep personally identifiable information that you provide via this site accurate, current, and complete, please contact us as specified below and we will take appropriate steps to update or correct such information in our possession, or to delete your information from our contact list.
Security
This site takes reasonable steps to protect personally identifiable information as you transmit it to our site and to protect such information from loss, misuse, and unauthorized access, disclosure, alteration, or destruction. You should keep in mind that no Internet transmission is ever completely secure or error-free. In particular, e-mail sent to or from this site may not be secure.
Links to Other Web Sites
This site may contain links or references to other Web sites to which this Privacy Policy does not apply. We encourage you to read the Privacy Policy of every Web site you visit.
Changes to This Privacy Policy
If this Privacy Policy changes, the revised policy will be posted on this site. Please check back periodically, and especially before you provide any personally identifiable information. This Privacy Policy was last updated on June 29, 2011.
Safe Harbor Privacy Policy
DRG International, Inc. and its wholly owned subsidiary, DRG International, Inc. (referred to collectively herein as "DRG International, Inc."), is strongly committed to protecting the privacy of those who entrust us with their personal information. Our employees, and all those who do business with us, trust and expect that we will protect their personal information in accordance with the promises we make. In furtherance of our commitment, DRG International, Inc. has certified to the Safe Harbor Agreement between the United States and the European Union, with respect to personal data processed as part of our human resources activities. Accordingly, DRG International, Inc. adheres to the Safe Harbor privacy principles and frequently asked questions, as agreed to by the U.S. Department of Commerce and the European Commission.
Scope
This Safe Harbor Privacy Policy sets forth how DRG International, Inc. handles personal data transferred from countries in the European Economic Area (EEA) to the United States that are collected or received in managing our workforce.
Definitions
The following terms are used throughout this document and are defined here for clarification.
Agent
"Agent" means a third party that processes personal data solely on behalf of and under the instructions of DRG International, Inc.
Personal Data
"Personal data" means any information or set of information that identifies or can reasonably be used to identify an individual. Personal data do not include information that is encoded or anonymized, or publicly available information that has not been combined with non-public personal information.
Sensitive Personal Data
"Sensitive personal data" means personal information that reveals race, ethnic origin, political opinions, religious or philosophical beliefs, or trade union membership, or that concerns health or sex life. Information will be treated as sensitive personal data where it is received from a third party that treats and identifies it as sensitive.
Privacy Principles
The following privacy principles apply to the collection, use and disclosure of personal data by DRG International, Inc. in conducting human resources activities.
Notice
DRG International, Inc. will inform individuals about the purposes for which we collect and use personal data about them, how to contact us, the types of non-agent third parties with whom we may share personal data, and any ways that individuals may limit the use and sharing of such data. This notice will be provided when individuals are first asked to provide personal data or as soon thereafter as is practicable.
Choice
DRG International, Inc. will offer an individual the opportunity to choose (opt out) whether personal data are (a) shared with a non-agent third party or (b) used for a purpose other than that for which the data were originally collected or subsequently authorized by the individual. For sensitive personal data, DRG International, Inc. will give an individual an affirmative or explicit (opt in) choice if the information is to be disclosed to a third party or used for a purpose other than those for which it was originally collected or subsequently authorized by the individual.
Access
DRG International, Inc. will provide individuals with reasonable access to personal data about them and they may request the correction or amendment of personal data that they demonstrate to be incorrect or incomplete.
Transfers to Agents
DRG International, Inc. will only transfer personal data to an agent where the agent has provided assurances that the agent provides at least the same level of privacy protection as is required by these privacy principles. Where we have knowledge that an agent is using or sharing personal data in a way that is contrary to these principles, DRG International, Inc. will take reasonable steps to prevent or stop such processing.
Onward Transfer
DRG International, Inc. will only transfer personal data to a non-agent third party where consistent with the notice provided to the individuals who are the subject of the data and any consent that those individuals have given.
Information Integrity
DRG International, Inc. will only use and share personal data about individuals in a way that is consistent with the purposes for which the data were collected or subsequently authorized by those individuals. To the extent necessary for those purposes, DRG International, Inc. will take reasonable steps to ensure that the data are accurate, complete, and current.
Information Security
DRG International, Inc. will take reasonable precautions to protect personal data from loss, misuse and unauthorized access, disclosure, alteration and destruction.
Enforcement
DRG International, Inc. has put in place mechanisms to verify our ongoing adherence to these privacy principles. We encourage individuals covered by this Policy to raise any concerns that they have about the way that we process their personal data by contacting us at the address below, and we will do our best to resolve them. We have also agreed to participate in the dispute resolution program provided by the European Data Protection Authorities Panel.
Limitation on Scope of Principles
Adherence by DRG International, Inc. to these privacy principles may be limited to the extent required to meet a legal, governmental, national security or public interest obligation.
How to Contact Us
Please contact us with any questions about the way in which we use personal data. Employees and former employees of DRG International, Inc., should contact us at:
DRG International, Inc. Global Headquarters
Attention: Corporate Communications
841 Mountain Avenue Springfield, NJ  07081 USA
Tel: +1-973-564-7555
Fax: +1-973-564-7556
Email:[email protected]
You can also contact us through the Contact Us page
Changes to this Policy
This Policy may be amended from time to time, consistent with the requirements of the Safe Harbor. When we do, we will also revise the "last updated" date at the bottom of this Policy. For material changes to this Policy, we will notify individuals by placing a notice on this page.
Last Updated: 07/8/2011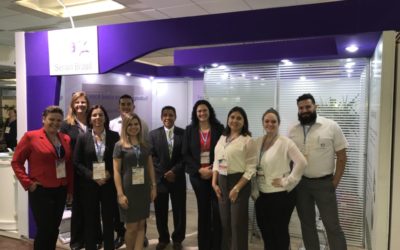 DRG is proud to announce the new partnership with Serion-Brazil and looks forward to a longstanding and successful business relationship! Mr. Gustavo Ruales, DRG International's Latin American Sales Manager, also attended the exhibition to support...
read more