DRG:HYBRiD-XL® - A Fully Automated Analyzer for Immunoassay and Clinical Chemistry
We've had an excellent run with the DRG Hybrid XL in our lab space. The platform is compact, the interface is concise, the assays are robust, and the results are precise. Coming from a CLIA laboratory, I've had the opportunity to handle a number of tabletop and full-size chemistry analyzers. Put simply, the Hybrid is among the best.
– Julian O. Yerkes Biomarkers Lab, Emory University.
Using innovative and unique technology the DRG HYBRiD-XL ® allows, for the first time, the simultaneous measurement of immunoassays and clinical chemistry parameters, including turbidimetric tests in one sample.
Up to 40 tests of different types or 40 times of the same test, or up to 20-patient samples can be ordered by the medical practitioner over a wide range of pre-packaged tests to serve different specialties.
Handling/Interface
Color Monitor, Touchscreen (8.5 inch.)
Smart user guidance
Bi-directional Interface (ASTM)
Calibration
Barcoded Master Curve
2 point recalibration
Long Stability
Test Principle
Enzyme Immunoassays
Clinical Chemistry
Immunoturbidimetry
Samples/Cartridges
Up to 20 samples/run (12 primary tubes or 20 secondary tubes)
Random access possible
STAT possible
Reagents on board (cartridge ready to use)
Barcoded reading of samples and reagents
Serum, Plasma, Urine or Saliva samples
Sample dilution up to 1:1000
Efficiency
First results after 10 minutes
Up to 80 tests/hour (2 runs)
Long walk away times
Short hands-on times
Benchtop Analyzer (60,8 x 63,5 x 58,6 cm high)
Only 2 system-reagents (Wash/Needle cleaning)
Clot detection
Liquid level detection
Variable assay-sizes (24, 60, 120 tests)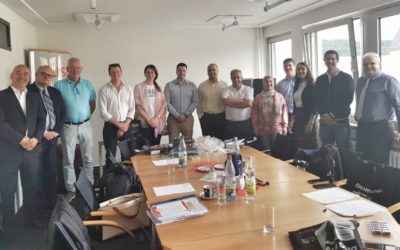 On June 4th-6th, the DRG:HYBRiD-XL Summer workshop took place in Germany with distributors from Nepal, Lebanon, and Australia. It was a very enthusiastic group! Key topics discussed included real situations in the field and Hepcidin as a new biomarker. Attendees...
read more